Angela Hewitt is one of the world's leading pianists. Hewitt has performed around the world in recitals and as a soloist with orchestras.
Born into a musical family, Hewitt began her piano lessons when she was three years old and started performing in public at four. A year later she won her first scholarship. Since her triumph in the Toronto International Bach Piano Competition, Hewitt has been widely recognized as the world's finest interpreter of Bach.
Hewitt has won many prestigious awards, including the Gramophone Awards and MIDEM Classical Awards. In 2000, she was made an Officer of the Order of Canada and was named an Officer of the Order of the British Empire in 2006. In 2015, she was promoted to Companion of the Order of Canada. She earned her Bachelor of Music Degree at the University of Ottawa at the age of 18.
Lan Anh Vu caught up with Hewitt to hear more about her journey, the challenges she has faced along the way and her advice for aspiring pianists around the world.
As told to Lan Anh Vu
Why I Pursued a Career in Music
I grew up in a home where music was always present. My parents were professional musicians. My father was the Cathedral organist in Ottawa, Canada and my mother was a pianist, and choir director. My mother was my first piano teacher. So it was a natural thing for me to play the piano and obviously my parents saw I had a gift for it so they really nurtured that without forcing. I did many other things too. I did classical ballet, violin, and recorder. But piano was always what I did easiest and I had the greatest talent for. I was very lucky to have parents who could teach me well from age of three, and that's where my love for music came from.
Challenges
There were hard times, when I had to do the international piano competition route. Of my generation, I was one of the pianists who did the most of those competitions. I must have done about 24 competitions. At the time I would be a finalist, and finally I won my big prize in 1985. I had a triumphant victory in the International Bach Piano Competition, which launched my career. And this was the best thing because I knew that I didn't have to do it anymore—it was very tough to compete. Sometimes you fly half way across the world and you prepare for several hours of repertoire and you have fifteen or twenty minutes to play for the first round and then you can get kicked out. That happened to me few times and gives a bad feeling.
But I always try to think positively, so I listened to many of the candidates to hear the standards and to see where I felt I stood, which is sometimes more important than what the jury thought. I tried to think of it as a good experience. Those were hard times when you got kicked out of competition in the first round, but then you pick yourself up and you prepare well for the next one and hope for the best.
Lessons Learned
It really forms you as a person to be a touring artist. You need strength, a lot of stamina, the will to keep working, to relate to people really well, to be very diplomatic, you need to be an open personality, and have an open mind. People think it is such a glamorous life to go around the world playing the piano, but in fact it is extremely demanding, physically, emotionally, and mentally. For example, this week I just gave six recitals in seven days in different parts of the United Kingdom with three hugely different programs, with only one day off in the middle. This is the kind of schedule that I keep, and I looked after myself during all of this time.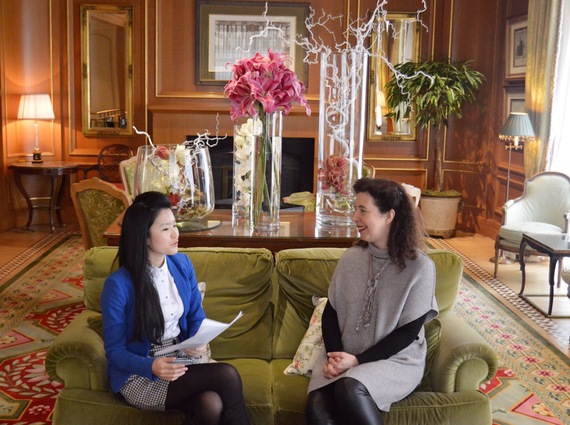 Bach
Bach has been a very difficult task master. He demands great discipline and co-ordination and heart. There is no music that is difficult to play, because he wrote the notes in the score. There is no direction about how fast, how slow, how loud, how soft, nothing, because you were supposed to know these things at the time. It was part of style then, so it takes a lot of extra study to play Bach well. A lot of discipline to take something so complicated and make it sound easy. It is very difficult.
Certainly, all the time you put into learning Bach, it helps you so much with all the other composers afterwards. Things like developing finger legato. So I feel that he's giving me such a wonderful base for all the rest of the repertoire as well as to play a bit of Beethoven, Schubert, and Chopin. I feel very fortunate that I've been able to spend so much of my life with him. I don't think that there's any other repertoire that I could have repeated so often as I'm doing on this world tour and absolutely never get tired of it.
Exciting Possibilities and Challenges for Current Pianists
Nowadays, there are more young pianists who have great technical abilities. What young pianists used to do in my young generation at the age of 17, now they do at the age of 12, which I think is actually is a mistake to play this huge repertoire like Chopin or Schumann. When you are at the age of 12, physically and emotionally you are simply not ready for it. So I think that it's a mistake.
I think people want success early on now, because of the Internet, YouTube, because of things so visible, they feel that they have to be out there and performing when they are in their teenage years. I think children need room to grow. I think it's still the case that they are many fantastically gifted pianists, but very few who have that exceptional musical quality and who have something to express. That's very personal and distinctive, so the challenge is how to get known if you take the competition route and of course win the big prize that would help you immensely, or to be picked up by the conductors. I think the most important thing for young artists is to develop a personality, and a distinct style through the wishes of the composers not just to develop a personal style.
Future Outlook for Classical Music
I think it's vital to expose young children to classical music, because it's part of the education. If you want to learn about art, it's important. Why learn about art and not music? The two go together. This is such an important part of civilization. So I hope people in charge of education around the world would realize that. And it has so much to do with parents and family. The family has to want to expose their children to classical music and of course not everybody will like it, because not everybody has a classical music ear.
Advice for Aspiring Pianists
Don't do it unless you are really passionate about it, unless you love it more than anything, because it is a very difficult life. If you are at the stage where you think you really can enjoy life without being involved in music as your main interest, then just try to diversify your interests and hobbies as much as possible; don't just think of being a solo pianist, because there have been few places for that. If you are gifted and great, then go for it. If you don't think you are going to be at the top level, then do the chamber music, learn how to teach, and of course perform alone. But just try to as many things within music as you can. And get together with like-minded people who you can share that with.
You have to practice every day. Don't practice to the point where you don't enjoy it. Then stop, take a break, because it is physically difficult on the body. Learn how to breathe on the piano. It is not a mechanical thing; you really have to put your emotion into it, so it is really important to learn how to breathe with the music. Be free with the body when you play.