Carlo Capalbo is the founder of the Prague International Marathon and the president of the organizing committee of the RunCzech Running League.He is also the IAAF Road Racing Commission chairman.
In 1994, Capalbo founded the Prague International Marathon, four years after the Czech Republic emerged from over 40 years of Communist rule.
In 2012, Capalbo launched the RunCzech Running League, comprising 7 races held in 5 cities of the Czech Republic and 1 guest race. RunCzech races with over 85 000 runners has been awarded a total of 7 IAAF Gold Label Road Races, and has attracted many of the world's leading athletes such as Haile Gebrselassie, Stefano Baldini and Paul Tergat.
Capalbo has received many prestigious awards, including European Athletics Member Federation Award for his contribution to the sport in Europe, and has been awarded the Order of the Star of Italy (L'Ordine della Stella d'Italia) which grants him the title of knight. Lan Anh Vu sat down with Capalbo to learn more about his journey and the success story of the Prague International Marathon — from its humble beginnings to one of the world's most prestigious marathon races.
As told to Lan Anh Vu
How I Founded the Prague International Marathon
I moved to Prague in 1993, and my last position was as a regional manager of WordPerfect. At that time, WordPerfect was the second largest company in the world after Microsoft. I was a member of the board of WordPerfect International. I moved to Prague, because I wanted discover and explore the Czech Republic, not only and purely for business reasons, but just from curiosity.
During my residency in the Czech Republic, a friend of mine, Gelindo Bordin, who was an Olympic gold medalist marathon runner came to visit me. We were having a beer in a pub and we conceived the idea of staging a marathon in Prague. We started to think that perhaps Prague could have a great marathon, like New York, Berlin or London. And, with that, an idea was born, launching and creating a marathon racing event.
In order to produce a marathon, you need a beautiful background, and Prague is wonderful. In order to produce a marathon, you also need a sporting tradition and a marathon tradition. And, this is the home of the great Emil Zatopek, who won three gold medals in the 1952 Olympics. I founded the Prague International Marathon in 1994. In June 1995, only 958 runners actually turned out and participated in the first Prague International Marathon.
Challenges
Staging a marathon in newly post-communist Prague was challenging. The country was totally unprepared, because Communist rule had just collapsed. In the beginning, it was very tough, because the industry didn't exist here. There was no mass participation in the way that there is right now. It was a challenge to tell people what it was all about. We were not only asking people to come and join the race, but we also had to educate them to understand that a marathon is a beautiful thing for them. Running can make them feel better, live healthier. Despite many difficulties and hurdles, I and my colleagues never gave up. I am grateful to have a team who are extremely committed, extremely skilled, and have a lot of passion.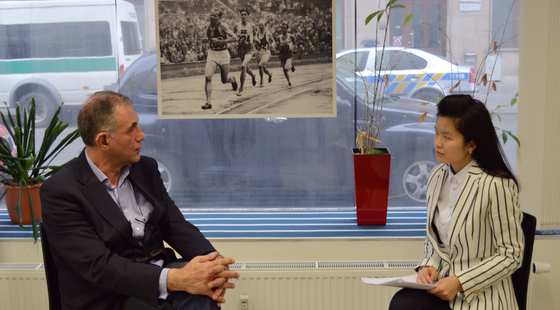 Lessons Learned
The biggest thing I have learned is not to give up. I always have lots of energy in doing things. I used to do many things, and some of them required me to be very fast. I want to achieve for the love of achievement and progress and being ethically correct. As I grow older, I have learned to do things a bit more slowly and enjoy them more.
The Growth of Marathon Running
Marathon running continues to grow in popularity. More and more people are taking up the sport. There are many good reasons. Running is convenient and affordable. You don't have to drive to a facility or gym. It's easy to approach, and can be done anywhere at any time. I never became a professional runner, but I ran a lot. There are health and fitness benefits; it's a lifestyle. Ladies enjoy marathons because they have become fashionable and make them lose weight. People wanting to do something in which they can feel good about themselves. And, it's all about self-esteem and self-confidence. Marathons are not only a day, they are also the few months before in which you train, you share with your friends, colleagues, and family, and you clean yourself spiritually and psychologically.
Running is a great sport, because you can also combine it with philanthropy. You set a personal goal of running a race, and you accomplish that, but at the same time you've also done some goodwill in the process. People come to the RunCzech races to run for charity. They don't mind paying higher fees to participate. They like the idea of making their run more meaningful by supporting a charity challenge event. We could raise hundreds of thousands of Euro for charity.
My Advice for Aspiring Race Organizers
For aspiring race organizers, first and foremost, they need to have a passion for sports, for organizing big social gatherings. So, I would advise them to invest in themselves in terms of education, acquire knowledge. Also, look for and obtain useful and concrete experience, even if unpaid. Go and help at other local events as a volunteer and try as many different aspects of this as you can. Expand your horizons and get in front of new people.