Jiri Menzel is an Oscar-winning director and a theatre director. Menzel is not only a director, however he is also an actor and screenwriter. He has directed 28 films, written 20 screenplays, and starred in 67 titles. He has also been a member of the jury at the Moscow and Berlin International Film Festivals.
Menzel was among the key figures during Czechoslovakia's new wave of filmmaking in the 1960s. He won the 1968 Best Foreign Language Oscar with his first movie, Closely Observed Trains, produced when he was just 28.
Menzel grew up with a passion for theater but failed to get admitted to drama school due to a perceived lack of talent. Instead, he attended film school, where he was taught by the professor and director Otakar Vavra and was part of a group of students that included pivotal Czech New Wave directors such as Jan Nemec, Milos Forman, and Vera Chytilova.
During the Soviet Occupation, Menzel was prevented from making further films until 1974 due to his anti-Communist views. Menzel's 1969 film Larks on a String was banned until 1990, when it won the Golden Bear at the Berlin Film Festival.
In addition to winning the Oscar, Menzel has been the recipient of many medals and awards including the State Honor – Merit Medal from the late Czech President Vaclav Havel and the Golden Medal from the President of the Italian Senate. Lan Anh Vu sat down with Menzel to hear more about his journey and the challenges he faced during the Soviet Occupation of Czechoslovakia.
As told to Lan Anh Vu
My Career in Film Directing 
I originally wanted to be a theatre director, but I was not admitted to the drama academy for lack of talent. And so I enrolled in film school instead. At that point TV was an emerging medium, and I saw that they would need actors of lesser talent and abilities for television, so I applied to the FAMU film school in Prague. I was very fortunate to be taught by the professor Otakar Vavra, who taught me how to make films.
I was lucky enough to have had opportunities in the film industry in the 1960s. It was a happy period for me as a filmmaker. There was a demand for films. The whole cultural atmosphere was ideal for filmmaking.
Challenges
In 1969, the Soviet authorities banned my film Larks on a String. The film so incensed local officials that I was labeled anti-communist and forbidden to make more films until 1974. It was not just me who was not allowed to make films. All the younger generation of filmmakers who before had been successful (Milos Foreman, among them) were without work. Larks on a String was eventually released to international acclaim in 1990.
At the time that I was banned from making films, I was also banned from performing or doing anything else in film. I'm not an actor by profession, but I was the right type for my first film role in Accused, a film made by the Slovak director Kadar. Then once people saw me in that film they assumed that I was an actor and that they could cast me, so they did.
Censorship
During the Soviet Occupation, state control over film-making operated on a number of levels such as approval of a film's initial concept and script, the presence of an editor on set, post-production monitoring, cuts to the final print, and controlled levels of distribution, and even if your film was ready to be shown, the authorities would find some reason to change it.
Even during periods of censorship, great films could appear. On the other hand, absolute freedom has enabled unbelievably ugly things to be brought into the world. I believe that freedom has this side effect: by making everything possible, you lack purpose and a direction. Creation always needs limits. If you're writing a book, composing a song, or directing a film, you have to make it. Creation comes out of conflict. If you don't have borders, you babble nonsense.
Lessons Learned
I have been very fortunate to have a great teacher and mentor, Otakar Vavra. During our four years at school, he conveyed everything we would have otherwise taken years to discover in our work. I was able to develop my own individual style and vision of the world. He taught us that film was not only a performing art but that it was part of culture and a very important form of art. So we had to know how to make film as a cultural phenomenon, not only for entertainment or money.
In terms of criticism, if I talk to a friend who tells me what he thinks, that's great. But I don't like listening to people who are critics by profession. I appreciate normal people, normal viewers. Critics always try to prove to their readers that they're smarter than the director.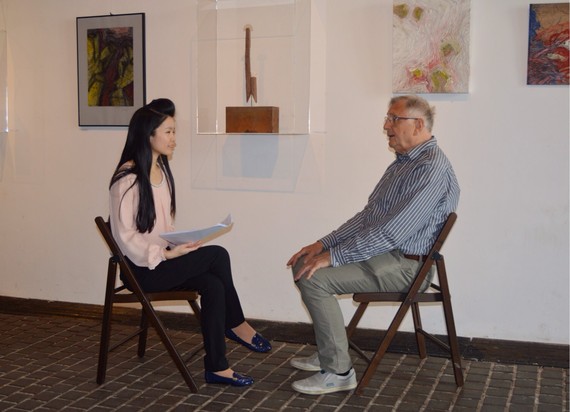 Bohumil Hrabal
Bohumil Hrabal is one of the greatest contemporary European writers. I've done a number of adaptations of Hrabal's work such as I Served the King of England. I have enjoyed his work enormously from the moment I discovered it. I fell in love with his work because I love Czech literature, and for me, his work resonates with the very best traditions of Czech literature. My whole generation fell in love with Hrabal.
When a number of my contemporaries decided to put together a film of short stories based on Hrabal's work, they asked me to join the project. So I met Hrabal while working on those short films, and afterwards I had the opportunity to work extensively with him on Closely Watched Trains. From that point on, I remained close friends with Hrabal until his death.
My Definition of Success
You can probably never completely say that you're truly satisfied with what you've achieved. From the very beginning, I wanted my work to have meaning, which means that people would go to see my films and appreciate them. I didn't make films for critics or to be famous, but for people to enjoy the films. I like it when someone sees me on the street and says, "I liked your film." It's very satisfying.
Advice for Aspiring Filmmakers
I think that an aspiring filmmaker should not think about art in the beginning. To start, he or she must learn his or her profession: how to make films correctly. And only after that it can become an art. The most important thing is to find the right reason to make a film and to feel responsibility for what will remain with viewers after they watch the film.