Jorge Quiroga is the former President of Bolivia.
He held the position of Leader of Opposition in 2006-2010, Woodrow Wilson Scholar in 2002-2003, president of Bolivia in 2001-2002, vice president and president of Congress in 1997-2001, minister of finance in 1992 and Vice Minister of Planning for Public Investment and International Cooperation in 1990-1992.
In the private sector, he has worked as vice president, board member and shareholder of a large private bank in La Paz (1993-1997); with Mintec in the mining sector in Bolivia (1989-1990); as a systems engineer with IBM in Texas (1981-1988); as a university calculus teaching assistant (1980-1981); and several others.
He is active in international organizations, including roles as the vice president of "Club de Madrid" with almost 100 former heads of state and government; on the boards of the "Interamerican Dialogue" and "Results for Development-R4D" in Washington D.C. Quiroga holds a Summa Cum Laude B.S. in industrial engineering from Texas A&M University and an MBA from St. Edwards's University, Texas.
As a little boy, I always wanted to be an engineer like my father and undertake public service in order to serve my country. While my family had never been wealthy, I was fortunate enough to have the opportunity of obtaining a good education in the United States. I was a good student and obtained the job of a teaching assistant for calculus at Texas A&M.
Upon graduation, I worked at the IBM as a systems engineer. During my stint at IBM, I got an opportunity to travel and work in other parts of the world. There is a tendency to think that everything back home will wait for you. But that was not the case with me. When my best friend passed away in a tragic plane crash, I really had to take a call on whether I wanted to climb the corporate ladder or return to my home country and implement whatever I learnt at school or from IBM. I decided to return home. When you do the accounting of your life and you have the chance to make a difference, you may want to make it count. Nearly 70 percent my home country's population lives in abject poverty, with very weak institutions.
Hence, I decided to come back and give something back to the country because we're way ahead in life's accounting and we owe it to those who need our help in whatever way possible. I think the magnitude of these changes can be best appreciated when you take a close look at generational changes. When I was in Texas A&M, I would be asked questions like: "Who's the president of country this week?" I had as many as eight presidents during three-and-a-half years of college. Another question that I was routinely asked was the inflation rate for a given week. At a certain stage, the inflation skyrocketed to 28,000 percent per year. Those were the stereotypes that were applied on me, and it was very frustrating. I started working on the technical side – at the ministry as adviser, and eventually the vice minister – at a time when my country had not witnessed the gas boom. We were in dire need of financial debt negotiations. I learnt how to undertake negotiations and pay back debts. One thing led to another and I ended up running for Office and stayed at it.
One of the most important lessons I learned is that you should not let people intimidate you. I was a minister of finance; I was 31 and looked younger than my age. I fathomed that it is okay to get a little offended. You can either start falling or handle contentious situations calmly and resolve them with humor. When you get attacked, take it on your chin and look at the funny side of it, regardless of why they want to pick on you. If you lose your cool, you can lose a lot, so you might as well take the heat in the right spirit.
The second major lesson that I learned is that once you are in a position of leadership and have a megaform that is part and parcel of being a political leader, vice president or president, you need to take your responsibility seriously. If you take the easy option out and evade tough responsibilities, what can you expect from people who believe in democracy? If you have a good title or you had one, and you don't have the courage to stand up on the ground and fight it out, democracy itself would be in danger.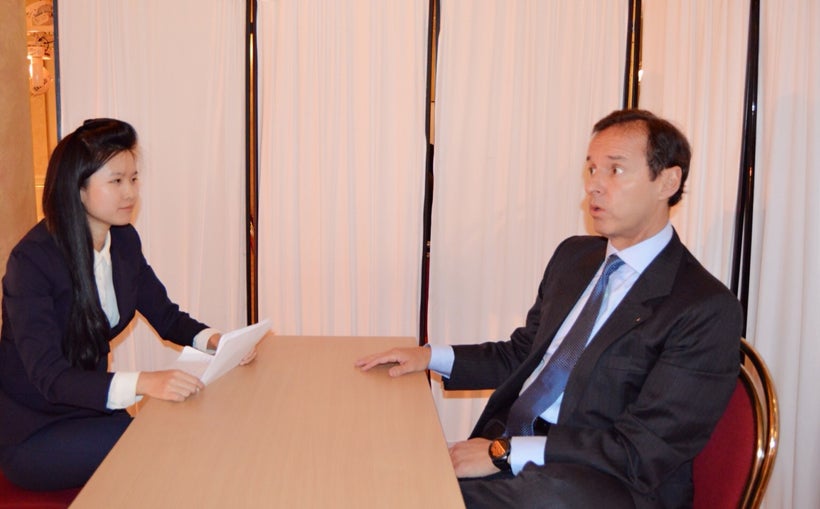 I think it is important to have the conviction and the courage to stand up to what we believe in, even if it is not very popular. I admire the greatest hero of my country – Victor Paz – the former Bolivian President. He had the conviction and yet, he changed with time because he knew the only thing that is constant is change. He was a World War veteran in the 50s who implemented landmark decisions such as universal voting right and land reforms. When we were grappling with hyperinflation in the 80s, he stabilized our country's economy. He had the unique ability of addressing the challenges even as they evolved. I think it is important for leaders to have the conviction of addressing the challenges of the times they live in, and not be complacent about answers given years ago. Finally, I think it is important to avoid making a scapegoat out of someone, which is very easy in the short-run. I think leaders need to focus on dealing with the burning issues of their time not blame the negative developments on someone else. That would be only my piece of advice in terms of whether it is appropriate for a developed country's leadership; it just does not work.
One of the most difficult things to understand is that in politics, you do not have easy answers in politics. Sometimes, you need to make very tough decisions. It is not a choice between white and black, left or right. Whatever call you take will have consequences. Many times, people try to take on the path that has least resistance, which normally leads you down the wrong path. Victor Paz used to say: "The good stuff; let it trickle in. The tough stuff; do it at once." If it is tough and difficult, and you know that it needs to be fixed, do it as quickly as possible. And let the good stuff roll in.
The key thing is that if you have a core set of principles, you see the challenges and you try to address them, you can then go to bed at night saying I have done everything I could today trying to address those challenges as oppose to feeling that I deflected one yet again. As Lincoln said: "You can fool some of the people all of the time, and all of the people some of the time, but you cannot fool all of the people all of the time". It still holds very true.
Look back at history, we can learn from what happened and think about twenty years down the line if you want to define success. Tell me twenty years from now, if anybody or majority of people still think that was the right decision to make, or look back, learn from what happened and tell me if it was consistent with what back then. I think consistency and standing for your principles that is the key to success.
I would advise young people to always ask the most important question: Why. When you get involved in activities and they say we've got to do A, B, C and people say Ok; because that's the way things have always been done. Don't be satisfied with this answer. Always ask why. Why do we have to keep doing things that way? Challenge the status quo and make a difference.