Lee Westwood is a former world number one ranked player and is one of few players to have won a tournament on five continents — North America, Europe, Asia, Australia and Africa.
He has been winning on tour since 1996, has finished inside the top three in all the Majors and has been on the last nine Ryder Cup teams, helping Europe to win seven of them.
Westwood has won the 2000 European Tour Order of Merit, and the renamed 2009 Race to Dubai. He reached the summit of golf in November 2010 when he became world number one, ending Tiger Woods' five-year at the top of the Official World Golf Ranking. He held the number one position for a total of 22 weeks. Westwood has enjoyed a glittering career, winning 42 titles around the world, including 22 on the European Tour.
In 2012, Westwood received an Officer of the British Empire (OBE) medal for his service to the sport. Lan Anh Vu sat down with Westwood to learn more about his career and the lessons he has learned along the way.
As told to Lan Anh Vu
My Early Years
I grew up in Worksop, Nottinghamshire. My childhood was filled with sports like football, rugby, cricket, and swimming. I tried just about everything, but golf seemed to hold my interest more than anything else.
I started playing golf at age 13 after my grandparents bought me a half set of clubs. My father and I started playing golf at the same time. One day we decided to play golf at the municipal golf course, and it all started from there. I played lots of team sports and I just felt like I wanted to be in control of everything, and not have to rely on teammates. Golf was one the few individual sports that I played and I quickly excelled at it.
My parents had some savings and, between the age of 16 and 18, they allowed me to play amateur golf full-time. By the time I was 20, I was competing in professional events.
Challenges
The biggest challenge has been to keep improving. In golf, it's very easy to try to change things, but sometimes you change things that don't need changing. For example, you often see people change their swing and get worse.
In 2000, I was ranked number 4 in the world. In 2001 and 2002, I had a couple of bad performances and slipped dramatically down the world's top 250. I felt that I wasn't swinging properly and I started to panic. I thought about giving up the game then, but I'm not the sort of person who quits easily. I knew that I could play, but I wasn't played up to my personal best. I was determined to get my form back and become an even better player than I was before. In 2004, I got back into the world's top 50 and became the world's number 1 golfer in 2010.
Lessons Learned
I've learned not to give up. There's no quitting. You mustn't panic, you must analyze everything. I think you can improve your course management by analyzing your game and seeing where you've made mistakes. I analyze previous rounds and see where I went wrong. When I play a practice round I'm looking for the most efficient way around the course, to see where I might make mistakes and where I might play the hole a little bit easier to eliminate any trouble.
I've also learned do what I feel is right, rather than doing what other people tell me to do. Your own thoughts, feelings, and ideas are usually best for you, and are much better than somebody else telling you what they think you should do.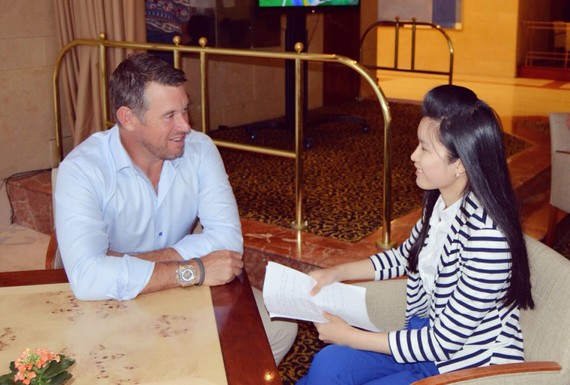 Mental Focus
Focus is critical to successfully execute a golf shot to the best of your ability. It takes years and years of practice and focus. You have to be able to block out all distractions and focus completely on the golf course. I have a natural ability to focus and to switch my focus on and off. I switch on when I play a shot and switch off when I walk up to a shot. It's good to be able to think about something else and, when you need to think about golf, turn your concentration back on.
When I Get Knocked Down 
You get knocked down continuously in golf, because you don't win very often. You have to focus on the positives in your performance and block out the negatives—see what went wrong but also see what you did right. You might play well for three rounds and then play poorly on the last round. Identify what you did right on the first three rounds, and then look at the last round to see what you did wrong, and try to improve the next time. Don't let disappointment erode your motivation and confidence.
My Definition of Success
I think you have to define your own success and not rely on other people think what success is for you. You have to set achievable goals; if your goals are impossible to hit, you will be disappointed and discouraged and your confidence will suffer.
Future Outlook for Golf
I think the number of new golfers is dwindling. Young people are disinterested because golf is expensive and takes a long time to play. I think you need to make it more appealing to kids to want to play golf rather than sports like football or basketball. I think cost is a big issue.
Advice for Aspiring Golf Players
You've got to love what you do. And you've got to work harder than everybody else. You've got to love practicing; you've got stand on the range in the rain practicing. The more you practice, the more you gain expertise and confidence.
You have to be very disciplined and analytical if you are going to advance in golf. You have to be very structured to be successful in golf, and that also really helps you in life.