Roman Sebrle is one of the world's most successful decathletes, a former World Champion, and a gold-medal winner at the 2004 Athens Olympics. In 15 years, he won a total of 18 medals, half of which were gold, including that from the Olympics and the 2007 World Championships in Osaka, Japan.
The winner of the Olympic decathlon is traditionally considered the World's Greatest Athlete. In 2001 in Gotzis, Sebrle achieved a true sporting milestone when he became the first decathlete ever to achieve more than 9000 points, thereby setting the record at 9026 points. Upon his retirement from athletics in 2013, Sebrle started a career in professional golf and currently works as a news anchor at Czech Television Prima. He aims to compete at the 2020 Golf Olympic Games. 
As told to Lan Anh Vu
Why I Pursued a Career in Sports
I fell in love with sports at a young age. I played a variety of sports with a keen interest in football, tennis, and basketball. I think it's in my genes. I didn't have any early involvement in track and field, but was captivated by the decathlon when I first saw it on television. When I was seventeen years old, I decided to do track and field. A former coach, Jiri Cechak, suggested that I train with him in Pardubice, where I joined the Track and Field Club. Then, in 1996, I competed in six decathlons to earn more than 8000 points for the first time. When doing the decathlons, I never thought that I would one day be the world champion or world-record holder. It just came to me naturally. I had determination to do my best and work toward being the best in what I did.
Challenges
In 2001, I was injured just fourteen days before the World Championships in Edmonton, and due to the injury, I couldn't do myself justice and finished in a disappointing 10th place. That was my worst failure. After the championships, I had surgery. Things happen. An injury is never ideal, and I had to take some time off, but I had no choice.
The transition process is a challenge. For some athletes, retirement is a concept that they don't want to think about in great detail. It's difficult for them to adjust to 'normal life'. Athletes train extensively for years, and it consumes most of their young lives in their 20s and 30s. They often make extensive personal sacrifices in order to pursue their dreams of glory. After retirement from professional sports, some athletes aren't in a financially stable position. So they have to find new jobs.
In the past few years, I've tackled health troubles, and as a result, my performance has declined. When I was down, it was difficult to cope with my situation, but then I decided to retire from the decathlon. It was not an easy decision. I had done decathlons for a very long time, even until I was thirty-eight years old. Then, producers from Czech Television Prima asked me to join their news team. I seized the opportunity. It was a very interesting offer, and I had never done it before, so I gave it a try. Working in television broadcasting is so different from athletics. In the first six months, it was very difficult for me to adjust to the new job, and I've worked hard to accumulate experience and acquire skills. I hope to improve better day by day.
Lessons Learned
I have learned that you have to respect your competitors. There are rules that you have to obey. I have also learned about will power and never giving up. I remember once, when I was competing in the World Championships, I considered giving up, but I never did. I won two silver medals, but not the gold. That motivated me to try harder, because I wanted to win the gold and not finish second place again. You have to be determined in order to leave no stone unturned.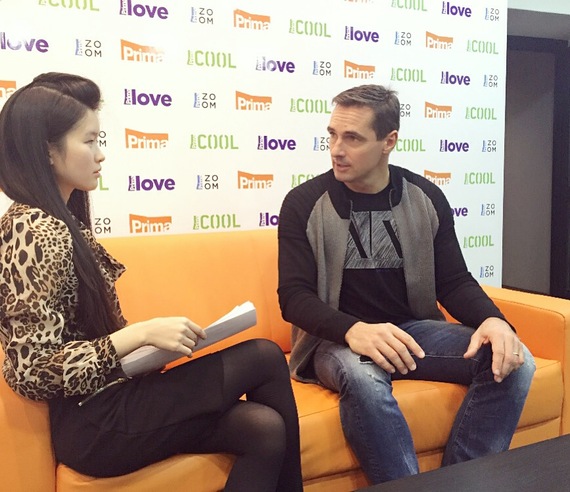 You need to have passion, perseverance, and self-discipline. If you think that this is only a career, then you will never win and never be good at it. When you are exhausted, you don't want to train. The decathlon is very daunting all of the time, especially concerning the amount of training that you have put in. It requires a lot of time, repetition, and skills training. So you have to be disciplined by training and always persevere to achieve your dreams.
My Motivation
When I enter a competition, I want to do the best that I can and, of course, beat my personal records. When I was seventeen years old, from the time that I saw the medals at a local meeting for athletes, I was motivated to one day earn medals. That's how my dream was born. I set my goals. When I won the medal, I wanted it to be gold, and I wanted to be the world champion. I wanted to accomplish more and get further. My motivation is to win; I always try to win.
When you love what you do, you never lose motivation. I really enjoyed myself when I was competing and winning medals. Sometimes I wanted to give up, but I never did. I have been knocked down, held back, and suffered injuries at the wrong time of the year more than I can count. I told myself, "I might get two silver medals in a row, but next time I'll get the gold. Don't ever give up." It motivated me to stand up against the odds and try harder to prove to everyone that I was good. Only injury affected my results and stopped me from winning.
My Advice for Aspiring Athletes
My advice for aspiring athletes is to be resilient and never give up. Don't take a setback as an excuse to keep falling. Take a setback as a way to make a comeback. You need to have passion for whatever you do. It takes time, dedication, and lots of hard work over many years to become successful. Everyone can be good at something; just find what you love and are good at. Commitment is crucial. If you truly desire to compete at the next level, then you must completely commit to that goal. Compete at your best. You always have to be pushing the edge.
I once asked myself, "If other people can do it, then why can't I?" I was an ordinary boy from a small town in the Czech Republic, but I could still make my dreams come true. I became a world champion. When you are persuaded by your dream, you can do great things, and no goals are too much to achieve. You have to work for it, though. With passion, hard work and perseverance, anything is possible.