Vera Jourova is the European Commissioner for Justice, Consumers and Gender Equality. She was previously the Czech Minister for Regional Development.
In 2006, Jourova was accused of accepting a bribe to secure EU funding for a building project. She spent 33 days in pretrial detention. In 2008, her name was cleared and the police finally admitted the accusations were groundless and the bribery never happened.
Since 2012, Jourova has been a member of the ANO political party, and since 2013, she has been the ANO's deputy leader. She was elected as a Member of the Chamber of Deputies of the Parliament in October 2013, and became Minister for Regional Development in January 2014. In October 2014, Jourova was appointed as the European Commissioner for Justice, Consumers and Gender Equality. She is the first Czech woman – to hold an EU commissioner post.
Jourova is strongly committed to advancing equal opportunities for men and women in the EU. Despite the progress achieved on many aspects of gender equality, many inequalities remain. In an interview with Lan Anh Vu, Jourova discussed her career, obstacles she has overcome, and the progress of gender equality in the EU.
As told to Lan Anh Vu
Why I Pursued a Career in Politics
I think that people are divided into two groups: those who are good at working for themselves and those who have an internal aspect that makes them work more for others. I think I belong to the second group. I have a deep sense of duty to work for the good of others.
I started working in politics when I was young, first at the civic cultural centre, which was somewhere between politics and NGOs. For me, it was a very strong motivator because this was where people went to concerts or carried out activities with children; they were happy and gained rich experiences. There were quick and positive reactions and people were pleased, which I could see immediately.
Challenges
In the early 2000s, I headed the region's development department. In 2003, I moved to Prague and soon became the deputy minister for regional development, which focused on EU matters and attempted to help the country absorb more EU funding. I then left the ministry for regional development in 2006.
In 2006, I was accused of accepting a bribe to secure EU subsidies for a building project. I had to spend more than a month in custody. Once I was released I struggled to find work in the Czech Republic, so I decided to establish a company and became an international consultant on European Union funding. I mainly worked abroad in places like Romania, Belarus, Moldova, Latvia and Serbia.
This was one of the most difficult periods in both my personal and professional life. It was a horrible offense. I did not get money from anyone; it was so much against my nature and the principles that my father taught me. I was falsely and unlawfully accused and held in pretrial detention for a month. So I decided to fight. The first thing you have to do is not feel sorry for yourself because this makes you weak. I was upset, and this gave me strength. Thankfully, I was fully exonerated by the courts in every respect.
As a result of this experience, I decided to study law because I wanted to know how the law should work. This was a big blow in my life, but it was the starting point for a new career because I became a lawyer.
This experience gives me a unique insight into the significance of the rule of law in criminal proceedings. When you have been through this experience, you start to understand what it means to be confronted with clear injustice. That is why I am so passionate about the freedom of individuals and liberty, which I consider to be of the highest value that should be promoted and defended.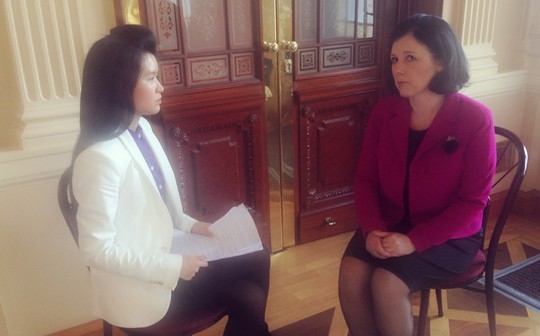 Lessons Learned
I've learned not to give up. I achieve results by gradually convincing people and never shouting. I treat people with respect, the way I want to be treated, and see it as my role to empower them to achieve.
EU and Gender Equality
I am proud to say Europe is a good address for women: More women than ever are obtaining an education, and more women than ever are participating in the labour market. Today, European women are represented and active in all spheres of life. But still, inequalities persist.
We need effective instruments in order to challenge the under representation of women in positions of power, be it in companies, the economy or politics. We need to break the glass ceiling. We have to use all the instruments available, legislative if possible, to impact the permanent pressure of campaigning. We work closely with NGOs that actively promote gender equality.
Despite the progress achieved, a majority of Member States are blocking progress on the draft Women on Board's Directive aimed at ensuring that at least 40% of non-executive directors on listed company boards are women. The main objection from blocking Member States is that boardroom gender diversity should be regulated at national, not EU level.
Across the EU, we have fewer women in decision-making positions. In 2015, women accounted for just 21% of board members of the largest publicly listed companies registered in the EU countries. I therefore think it is proper to adopt the Women on Boards's Directive to improve gender balance in decision-making positions. Gender equality is not an option, it is not a luxury, it is an imperative and it is a competitive advantage. That is why Europe needs strong rules to tackle the gender imbalance in company boardrooms.
My Advice for Young Women
My advice for young women, first and foremost, is that they need to be self-confident, proactive and believe in themselves. They should decide what to study and choose the right subjects to give them opportunities in the labour market, as I see a big gap in technology. I think that it is important that women grab the opportunities that are there. They must be assertive and not be afraid to talk and to engage, because this world belongs to them just as much as it belongs to men.