Jiri Bartoska is a renowned actor and president of the Karlovy Vary International Film Festival, one of the oldest and largest film festivals in the world.
Bartoska has overseen the Karlovy Vary Festival since its privatization over 24 years ago. He managed to return popularity and prestige to the almost dead festival. Diagnosed with Hodgkin's Disease at 67 years old, Bartoska has been successfully treated for cancer. Lan Anh Vu sat down with Bartoska to hear more about his journey, how he fought against cancer, and how he brought prestige back to a film festival close to extinction.
As told to Lan Anh Vu
Leading Karlovy Vary International Film Festival
For more than 40 years the festival was organized under the pressure of the political situation in socialist Czechoslovakia. Beginning in 1959 and lasting until 1993, Karlovy Vary was forced by a FIAPF (International Federation of Film Producers Associations) recommendation to alternate annually with Moscow.
In 1993, Minister of Culture Pavel Tigrid decided to cancel the Karlovy Vary International Film Festival (KVIFF). Twenty-four years ago I was approached by Igor Sevcik from the Ministry of Culture, along with a couple of other people who had hoped to reestablish the credit and status of KVIFF, which was, at that time, in a hopeless situation and close to extinction. The State decided to no longer support the festival because it was perceived as non-promising.
And so we took the festival's rescue as a real-life challenge. Here was a film event, one of the oldest in the world, with huge tradition on which we could build. Although, maybe if we had really known what it meant to organize such a festival, we would not have undertaken the challenge! But because we also had a bit of a beginner's luck, we can now, after more than twenty-four years of the KVIFF, say that we built one of the most important cultural events in the country.
Challenges
We had to face our biggest challenge right at the beginning, when survival was our main and only target goal. We received only 30% funding from the State; the remaining 70% came from private donors. At that time, Karlovy Vary Festival operated as a foundation, so we had to get sufficient funding to organize such a festival annually. It was tough. However, we never thought of giving up. We kept trying to do our best.
Other challenges then came a few years later when a competitive project, the Golden Golem, was launched in Prague, obtaining a prestigious category A from FIAPF. We managed to rally a very cohesive group of people around us, such as filmmakers, journalists, cultural workers, and a public who supported us and believed that our way was right. Thanks to this, we coped with all of the obstacles and the Golden Golem disappeared after a couple of years.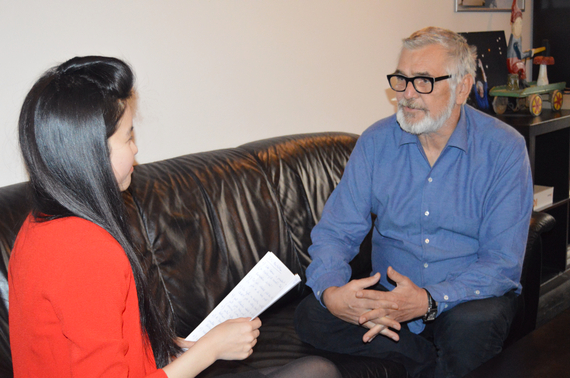 Fighting Against Cancer
I have undergone successful cancer treatment. The cancer is called Hodgkin's lymphoma. I had been filming the series "Ja, Mattoni" for about ten days. All of sudden, I did not feel well, so I went to see a doctor for a check-up. I had an X-ray examination and cancer was detected. Thankfully, this was an early stage of Hodgkin's lymphoma and it had not spread throughout the body. Doctors diagnosed the cancer in November 2014. Chemotherapy treatment ended in January 2015 and was then followed by radiotherapy. My course of treatment finished in March 2015 and I had many follow-up appointments. The results look good so far.
But life did not necessarily get easier for me right away. The cancer came at the wrong time. After the course of treatment, my team and I had to prepare for the 50th Karlovy Vary International Film Festival. So I did not have time to take a break. I am very grateful to my dedicated team, who have been with me for fifteen, sixteen years. They have been through hard times with me.
Surviving cancer was a rough life experience. But I viewed the cancer as a disease. Cancer is simply a disease that must be treated. Each person's experience with cancer is different: for some people it is life-threatening and life-altering, but for me life was still the same. Honestly, I had no fear of cancer, I was almost 70 years old. This is more about the psychological thinking. Going through treatment was very tough, but it was a process and every day got better. The cancer has made me grow as a person and not become a victim.
Lessons Learned
I believe in destiny and fate. We have a destiny. We have a purpose. We have one important thing. But it only comes with coaxing, work, and action. Destiny wants to be pursued. It wants to be discovered. It is in the journey where we learn to understand and value what it means.
Future Outlook for Film Festivals
I think there are probably too many festivals worldwide, so it is challenging for festival organizers to get recognition amongst the ever-expanding crowd. There is a branding issue. You have to find a way to separate your festival from others, making it attractive to your audience. The profile of the festival goes up depending on the quality of film selections, participation by the film community, and efficient organization.
My Definition of Success
For me success means one can sleep peacefully through the night. Family is very important to me and to be able to raise children is a great accomplishment, even though at one point they have to go on their own way. One of the greatest successes is to leave a fingerprint on the world; we have one life to live and we better do the best we can with it.