Soviet-born Israeli-American Yefim Bronfman is among the most talented virtuoso pianists performing today.
Bronfman has impressed audiences and critics worldwide with his solo recitals, orchestral engagements, and expanding catalogue of recordings. He has received many prestigious awards, including the Grammy Award and Avery Fisher Prize. 
As told to Lan Anh Vu
Why I Pursued a Career in Music
I love music, especially the piano. It is a great privilege to be a musician and to share beautiful music that can benefit the vital part of our lives known as culture. In pursuing my music career, I was greatly inspired by the amazing concerts, and performances of visiting artists and the thought that the lifestyle was a wonderful one. I come from a family of musicians in which everyone plays one instrument or another, so it was quite natural for me to take lessons in piano. My first teacher was my mother, a pianist, while my father, a violinist, gave lessons to my sister. We even had a competition to see who could play the loudest.
Challenges
I faced several moments when I lost my drive, because the life of budding musicians can be incredibly complex, especially during the early years. Sometimes others can misguide us and cause us to face circumstances in which we do not know what to do. I think that any young musician needs common sense and a cool head to not be disturbed by negativity and undesirable circumstances and situations. At several times I lost my motivation and patience, yet I never acted on those impulses. As a result, I never had a moment when I thought, I've had enough and want to do something else. That never happened, because I have always believed that patience and hard work pay off.
What I Have Learned
I have learned that success takes a lot of hard work and confidence. The mystery that compels me to the next concert is difficult to pinpoint and highly complicated, though the most important thing is a foundation that can allow a person to persevere, which for me is a love of music. Another lesson is that we must always be prepared to deliver excellence. Careers sometimes last for only a short time, but if you consistently deliver interesting music, then I think that someone out there will always want to hear it. I have always been fascinated by music; I do not play music because the market needs it, but because I am a naturally curious person. What drives me is the desire to improve. Though I do not always succeed, I always try to get better.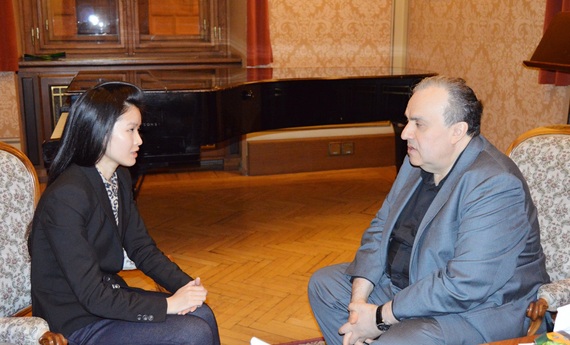 My Perspective on Life
I do not conceive life as a whole, but instead wake up every morning and enjoy the day without worrying about tomorrow. I also do not dwell on yesterday, but live in the moment. Every day presents new challenges and work, and in this profession, people need to have generous senses of humor, because if they take things too seriously, then they cannot do their jobs. Musicians can go crazy on almost any day unless they keep a cool head and a sense of humor about things. We must laugh. Laughter is important for this job; without it, you will not get anywhere.
The Most Exciting Possibilities and Challenges for Current Pianists
The piano currently encourages fantastic repertoires, often of the array of good music written during the twentieth century and today. However, I think that it will be challenging for new pianists to enter into the concert circuit in the coming years. The processes of music making never cease, for the human spirit cannot be stopped, and one integral expression of humanity is music. Plus, piano will always be at the core of music making, not because there are many great pianists but because it allows great, diverse repertoires that need to be both played and heard.
The Future of Classical Music
Arts and culture in general enrich our lives, and there are more concerts today around the world than there has ever been before. Given all of the festivals and orchestras, I think that music enjoys wider audiences today than thirty or forty years ago. Nevertheless, we should worry about the future of classical music and not forget how important its culture is. Accordingly, we must promote the music and introduce its culture to younger generations. We must develop curricula at every school that introduce music education for, without it, we do not have a future; without it, our lives diminish greatly. We must learn to cherish what past artists have left us.
Advice for Aspiring Pianists
Above all, always remember that what you do is vital to the life of society; even if you do not succeed at first, you have to fight for what you believe in, work hard, and not get discouraged. There are many kinds equally wonderful careers available to pianists; they can play with violinists, and with vocalists, and they can teach; they can even do both. Being a soloist is not the only option available to budding musicians. For many years, I played with several violinists, and that is how I came to my career, because I wanted not only to perform, but also to play a repertoire to learn more from other musicians' work. What's important for young pianists is to continue to collaborate with other good musicians. I do not think that anyone can become a good musician simply by sitting in a room alone; instead, musicians must embrace a little give and take, start discussions, and play with other musicians.