Petr Pavel is the chairman of the NATO Military Committee. He is the first leader from a former Warsaw Pact nation to serve as the alliance's senior military officer. From July 2012 to May 2015 General Pavel served as Chief of the General Staff of the Armed Forces of the Czech Republic.
Throughout his career, General Pavel has held a wide range of positions, the most prominent being Deputy Military and Air Attaché of the Czech Republic in Belgium, Commander of the Czech Special Forces, Deputy Director Operations Division at the Czech Ministry of Defence, National Military Representative to the US Central Command and National Military Representative to SHAPE in Belgium.
Furthering his education in the United Kingdom, General Pavel has studied at the Staff College, Camberley, the Royal College of Defence Studies, London and obtained Master's Degree in International Relations from King's College, London.
He is the recipient of many awards and decorations, including the State Award of the Czech Republic – Medal for Heroism and French Order of the Legion of Honour. Lan Anh Vu sat down with General Pavel to learn more about his military journey, the key lessons he has learned over the years and how he handles fear.
As told to Lan Anh Vu
My Early Years
I was a military child. I was born to a father who worked in the military, so basically I was brought up in the army. I would not have thought for a minute that my career might go in a different direction than toward the army.
At the age of 14, I decided to enroll in military school. The Ministry of Education offered children my age the opportunity to attend grammar school, either at a civilian school or a military school. Since I had an adventurous nature, I wanted to go where I would be on my own; because I believed that I was adult enough to stand on my own two feet. I decided to enroll in military school in Opava, which was far away from my hometown.
Once I enrolled in military school, there was an opportunity for students who were interested to join the civilian paratroop club and complete basic training, I immediately decided to do so, for I had always looked for challenges, the unusual, and something that not everyone could do. I wanted to prove to myself and to others that I could do it. Since I was usually the youngest student in my classes, I always had far more motivation to prove that I could what others could do, if not more.
In 1983, I graduated from the Army College. Since then, I have spent a large part of my military career holding positions in the Special Forces, Operations, and Intelligence divisions.
Challenges
The challenge was to uphold my personal set of values and principles and not to adjust them to suit my current position or the expectations of my superiors. Quite often, especially in the military, you are supposed to obey orders and not voice your own views. But I had always difficulty with developing my own views and in doing things my own way. Since from the beginning I was working in the Special Forces, those qualities were highly valued, because Special Forces works under different paradigms; they like creativity and personal innovation. So, my different views worked when I was in the Special Forces. They didn't always work when I was in the Intelligence division, however.
Lessons Learned
I believe that having a chance to serve in the combat unit, to work through difficult situations with other people, and to face real trouble that could lead to the loss of health or even life gives you a slightly different perspective. Wherever we face crisis in our peaceful, normal daily lives, people who have experienced truly difficult situations usually say, "If no one is dying, then it's not a real crisis." Real crises happen when situations get really bad; until then, there's always a solution, and we only have to consider the options, choose the best one, and go for it. I believe that that whole different series of life experiences helps me today to deal with the challenges of daily life that are never as bad as they are in combat.
I've also learned to be humbly dedicated to improvement. There is always something you can learn from someone regardless of your position; there are always people who are smarter and have more experience, and there are always people with different perspectives. So, I always try to stay open to new ideas and not to direct everything and everyone, but rather to take different views and opinions and value others' perspectives. I'm always ready to change my mind when I find a better solution from someone else. I think that's a kind of humble attitude to life that demonstrates that we're all learning life as we go.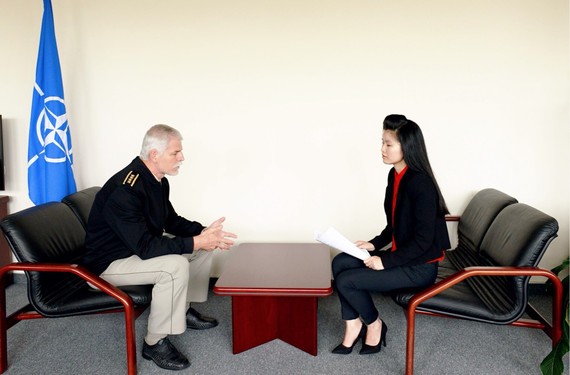 How I Overcome Fear
First, I overcome fear by proper training. If a soldier is properly trained in his or her business, then he or she is confident and knows how to behave in critical situations. You train first by learning all of the skills necessary for combat; you train in endurance, and you train to have stamina in difficult situations. The closer you approach the limits in training, the better off you'll be, because then you know what you can really handle. Many people believe that they can face critical situations, but before they know their own limits, they actually don't know what they'll do. Therefore, the purpose of training is to bring people as close to their limits as possible so that they are absolutely clear where their limits are. People who are confident in their own skills can overcome their fears.
Second, you always overcome fear when you have clear motivation. I always motivate myself, whether in my private or military life. My purpose in being in the military is to save lives and to always help the weak and whoever is in trouble. You might have soldiers under you who depend on you; whatever you do, they will face the same consequences. If you make a bad decision, then they might die. So, that sense of responsibility to soldiers helps you to overcome fear, because your primary objective is to first accomplish the mission and, second, to bring your soldiers back safely. You never have time to think about fear when you are in a crisis.
Future of NATO
NATO is more than a military Alliance. The way we work together is based on sharing not only the same values, but also the will to communicate, to understand each other, and to compromise solutions. That's why I believe in the future of NATO, which is based not on expansion in terms of aggressive interests, but on expansion in terms of nurturing stability, dialogue, and normal relations, in which nations can talk and not have to compete on the battlefield.
When it comes to deterrence and collective defence this is NATO's core responsibility. This is about providing credible deterrence so any adversary knows that an attack on any NATO Ally will trigger the full response from the whole Alliance.
At the same time, however, many existing threats cannot be addressed effectively with military force only. That means properly addressing the challenges from the South, especially instability and terrorist radicalization. Those trends cannot be defeated by military force, but have to be dealt with by using a variety of tools best reflected through cooperation, dialogue, building capabilities, and building local capacity.
My Definition of Success
I would define success as something that we manage to do with lasting effect for as many people as possible and that does good for people. For example, if we manage to have a reasonable dialogue with Russia, then we can reduce the threat of confrontation between the two sides. Then, the lives of people can be much better than during a confrontation. If we succeed in building capabilities to provide more sustainability to countries and to ourselves, then not only people in those countries will live better lives, but will be safer as well.
Advice for Young People
Young people should care about what is happening in the world. They should try to gain as much knowledge as possible in order to make qualified decisions and then take part in implementing decided actions, or else they will only complain about decisions that someone else made for them. If they do not care about anything around them, then they will probably have no future. Instead, the future will be stolen from them by those who are more assertive.