Vytenis Andriukaitis is the European Commissioner for Health and Food Safety. Andriukaitis is the first doctor ever put in charge of EU health policy. From 2012 -2014, he was the Health Minister of the Republic of Lithuania and was the Vice-President of the 67th World Health Assembly.
Andriukaitis was active in the anti-Soviet opposition and was one of the authors of Lithuania's constitution of 1992 and a signatory to the 1990 Act of the Re-Establishment of the State of Lithuania. He later became chairman of the Centre-left Lithuanian Social Democratic Party (LSDP). He chaired the Lithuanian Parliament's European affairs committee before the country joined the EU and led the Lithuanian delegation to the convention on the future of Europe.
Andriukaitis also served as a cardiovascular surgeon for almost 20 years. He has received many prestigious decorations and awards including, Commander, Order of the Lithuanian Grand Duke Gediminas and award of the World Health Organisation for the merits in the area of tobacco control. Lan Anh Vu sat down with Andriukaitis to learn more about his political life, the challenges that he has faced along the way and his advice for young people across the world.
As told to Lan Anh Vu
My Career in Politics
I spent the first six years of my life in a Soviet gulag north of the Arctic Circle, where my father was an imprisoned diplomat. I have always fought for the freedom of Lithuania, which became occupied by the Soviet Union in 1940. After World War II, when Soviet occupation continued, my inspiration was to see my country become a free, responsible agent of democracy and human rights.
I hold degrees in medicine and history and started a political career just after high school, as an active participant in the anti-Soviet underground movement, and in 1976, I took part in underground social democratic activities. Due to my anticommunist political involvement, I was arrested and detained by the KGB.
Ten years later, I became the deputy chairman of the Lithuanian Social Democratic Party (LSDP). All the while, I developed my medical skills and even became a cardiovascular surgeon. The Velvet Revolution of 1989 in Prague inspired us to move forward. At that time, Lithuania had a one-party system, in which the party was the Soviet Communists. It was a major challenge to establish an independent, free political group, for we needed to present our views and values about changing the situation, as well as programs to accomplish that goal.
In 1989, we started to promote ideas to organize the first free election, and in 1990, people elected me to a post on the Supreme Council of the Republic of Lithuania. I was one of the authors of Lithuania's constitution of 1992 and a signatory to the 1990 Act of the Re-Establishment of the State of Lithuania. Since 2000, I have been a member of the Parliamentary Committee on European Affairs. I led Lithuanian delegation at the Convention on the Future of Europe in 2002-2003. From 2012 – 2014, I was the Minister of Health in the 16th Lithuanian Government. In September 2014, I was appointed as the European Commissioner for Health and Food Safety.
Challenges
Lifelong learning is a good ideology; education is number one in my life. There are many areas in which I lack knowledge, and of course, I know my capacity in medicine and in some areas of history. But the world is far more multifaceted, and I know how many issues surround my work and present me with challenges against which we have no tools to fight. It is very important to me to understand how to mobilize my capacity to be more effective at my job every day, to see whether I have accomplished and changed something underground, and to reflect on my years of work by asking myself, "Vytenis, are you effective and productive or not?"
Lessons Learned
I've learned how to be together with people and to stress the possibility of helping people to feel better and live healthier. For instance, to reduce the effects of tobacco use, it is important to pressure the parliament and the government to vote in favour of enacting anti-tobacco measures and to help people to stop using tobacco, to be safe, and to not be attacked by cancer. As a heart surgeon, I have seen the terrible effects of tobacco use first-hand. I also lost two of my brothers to tobacco-related diseases. I will never forget the pain that they endured.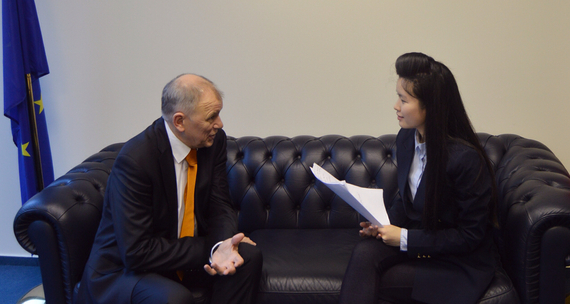 Health Challenges Facing the EU
Among the top health challenges is the high level of chronic disease. If you look at the figures, on the one hand, there is an ageing population, which has been and will be a longstanding trend. On the other, many people are suffering from cancer, diabetes, and alcohol abuse. It is a real challenge to reduce the number of premature deaths of people aged 22-56 years.
I find it particularly painful to watch hundreds of thousands of Europeans die ahead of their time due to alcohol and tobacco use, obesity, and lack of physical exercise. The European Union remains weak on those points. In Europe, half of all adults are overweight or obese, and one third of all children are obese and thus at risk of developing diabetes or cardiovascular disease. Tobacco prematurely kills 700,000 Europeans every year.
I would like to draw attention to the three Ps: promotion, prevention, and protection. There are instruments obliged to prevent, promote, and protect people, and corresponding measures need to be taken in a variety of areas of life. It is a big disappointment to see how weak we are in coordinating common actions to reduce premature deaths and the burden of chronic disease in our economy, our lives, and our healthcare systems.
We need to understand that the healthcare system is a precondition to help the economy. Our lack of public finances, the ageing population, the higher level of chronic disease—they all work together to create tremendous problems. They are therefore the primary challenges and the objects of top goals toward moving forward and encouraging Member States to do more to increase accessibility and improve the resilience of healthcare systems.
Growing Threat of Antibiotic Resistance
Antimicrobial resistance (AMR) is one the most pressing public health issues of our time. It is a problem worldwide, spread by increasing global trade and travel between countries and continents.
For more than 15 years, the European Union has been active in the fight against AMR, in bringing about behavioural change, and in tackling the pressing issue with the "One Health" approach. That means that we need to continue preventing the spread of resistance and preserve our ability to combat microbial infections by involving many different sectors: human medicine, veterinary medicine, research, animal husbandry, agriculture, environment, trade, and communication.
The fight against the threat of AMR cannot succeed without the efforts and commitment of all governments, all involved stakeholders, relevant civil society organizations, and the general public. I urge the G7 and G20 to keep AMR high on their agenda, as well as EU Member States and the World Health Organization to sign an agreement to use the same methodology, the same statistics, and the same surveillance of resistance bacteria. Otherwise, it will be very difficult to make any progress against AMR in the future.
Advice for Young People
They need to be proactive in their lives in order to realize possibilities, to use different means of study, such as the Erasmus Program and international collaboration, and to develop their skills to become knowledgeable about and active in taking advantage of new opportunities. Though it is the Digital Age, we should nevertheless draw attention to healthy lifestyles, for it is painful to see young people in depression. Instead, their skills should be used to create possibilities to cultivate a feeling of solidarity around the world. We need new cooperative approaches to speak to young people, who have tremendous opportunities before them.
I believe that we need millions of highly educated, well-prepared young people to be leaders. One leader can influence society, but not revolutionize it. We need a broad network and campaign of leadership to encourage young people to understand that they all are leaders.